HUNAN KINGCERA ENGINEERING CO.,LTD
Address:

NO.18,East Twelve Road,Changsha Economic and Technological Development Zone,China

Postcode:

410100

Fax:

+86-731-84069186

E-mail:

info@kingcera.com

Website:

http://es.kingcera.com


Sales office

Tel:

+86-731-84019856

Fax:

+86-731-84069186

E-mail:

sales@kingcera.com


Service office

Tel:

+86-731-84067818
Concrete pump parts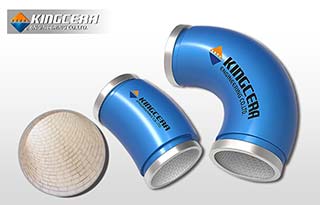 Concrete pump pipe and elbow
Product Introduction: The concrete pump pipes and elbows are suffering serious abrasion & impact problems because of the high speed pump concrete. The normal carbon steel pipes under such high abrasion and impact condition are very easy to wear out. To solve the serious abrasion & impact in the concrete pump pipe fittings, we developed our own patent products called KCPP wear resistant ceramic lined concrete pump pipe fittings. By lining our ceramic liners into the seamless carbon steel pipe fittings, the working lifetime can prolong more than 8 times.
Specifications:We are able to provide all different types of ceramic lined concrete pump pipes. We can also make the standard and custom ceramic lined concrete pump pipes according to customers' requirement.
Advantages:
1.The service lifetime prolong at least 8 times.
2. It is standard flange connection, easy for installation.
3.The weight is lighter than normal carbon steel pipe.
4.It can reduce the shutdown time and maintenance to increase the working efficiency.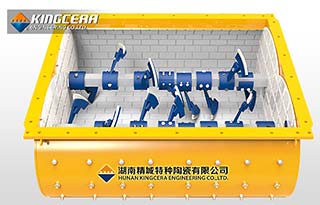 The concrete mixer ceramic wear plate
The inner wall of concrete mixers usually are suffered a very serious abrasion and impact from the mixing concrete .There are generally in a very short service lifetime with the common wear resistant manganese steel plate. Therefore, the mixer has to shut down the working to do the maintenance. It not only decreases the working efficiency, but cost a lot. By improving ceramic configuration and processing techniques, Kingcera overcame the weakness of ceramics and created two methods to do the installation for the concrete mixer according to the specific working conditions. Namely, we can bond the different thickness ceramic liners to the concrete mixer directly, or we can make it as a ceramic steel plate connected with the bolts and nuts. Both of solutions are turned out good ways for abrasion & impact resistance for the concrete mixer. Reporting says the service life can be increased by more than 10 times.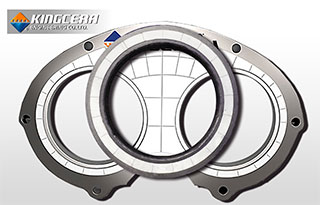 Ceramic wear plate and wear ring
The wear plate and rings are suffering from high wear as well as cutting friction. Kingcera developed the ceramic lined wear plate and cutting rings, it has the following advantages:
1.We use suitable ceramic materials for this application. The ceramic has both high performance of high hardness and toughness.
2.The service life is much longer than the common high chromium overlay material.
3.The ceramic surface is very smooth, can reduce the cutting friction.
4.Standard size and easy installation.
Let us know how we can help!