HUNAN KINGCERA ENGINEERING CO.,LTD
Address:

NO.18,East Twelve Road,Changsha Economic and Technological Development Zone,China

Postcode:

410100

Fax:

+86-731-84069186

E-mail:

info@kingcera.com

Website:

http://es.kingcera.com


Sales office

Tel:

+86-731-84019856

Fax:

+86-731-84069186

E-mail:

sales@kingcera.com


Service office

Tel:

+86-731-84067818
TiC Cermet Inserts(steel bonded cemented carbide titanium carbide)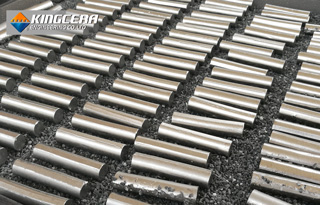 TiC Cermet Inserts
TiC based steel bonded cemented carbide (grade: TM52) is new-developed wear resistance product in Hunan Kingcera Engineering Co.,Ltd. Aiming to provide new cermet composite solution for all kinds high manganese or low alloy wear parts 'wear resistance performance in the field of mining,cement, steel making.
Steel bonded cemented carbide titanium carbide is a kind of cemented carbide material by powder metallurgy method with titanium carbide as the hard phase and high manganese steel as binding phase, and some rare metal elements are added.
Common grade details as below, TM52 is hot sale and the most widely used one:
Grade
Composition Details
Application
TM52

Titanium carbide 48%, high manganese steel and others 52%

High abrasion resistance and high toughness, widely used in crushers' wear part by casting
TM60

Titanium carbide 40%, high manganese steel and others 60%

Compared to TM52, higher toughness, but lower abrasion resistance, usually used in road header, shaft drilling machine;
GT35

Titanium carbide 35%,

high manganese steel and others 65%

Ultra high toughness, usually for mold making;
Ceramic composite crusher wear parts ( high manganese steel with tic cermet rod by metallurigical bonding ) , could solve the problem of easy to be broken with high hardness in high manganese crusher wear parts under big impact , abrasive wear and fatigue wear. Also could help the end user to save maintenance cost, decrease change-out & downtime, furthermore, increase crushing and discharging ratio.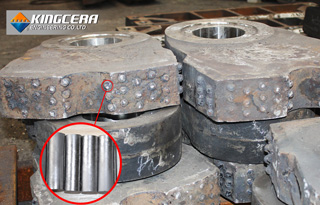 Technical Data
Grade TM52 TiC based steel bonded cemented carbide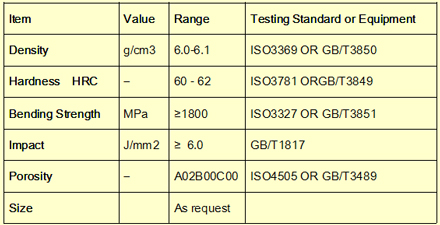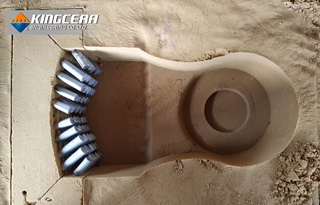 Application
Applicable product: hammer crusher head, blow bar, jaw plate, concave, mantle, HPGT liner, Metso cone crusher wear parts;
Applicable crusher: jaw crusher, hammer crusher, hammer mill, impact crusher, cone crusher, gyratory crusher, high press grinding roller;
Applicable matrix material : high manganese steel (Mn 12-14%, Mn13,Mn13Cr2,Mn18,Mn18Cr2), low alloy steel
Applicable casting method: vacuum, EPC, sand molding;
Applicable material: Large ore, iron ore, gold ore, copper ore, river pebble, granite, basalt, iron ore, limestone, quartzite, diabase, etc.
Applicable site: Ore crushing line, limestone mines, sand quarry, concrete mixing plant, dry mortar, power plant desulfurization...etc.;
Applicable industry: Ore mining industry, cement industry, building materials industry…etc.
Let us know how we can help!